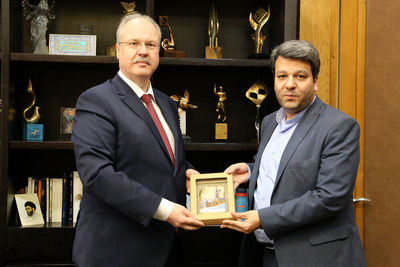 Khazaei said, "Public diplomacy is realized through cultural issues, in particular through cinema, and films help develop mutual understanding in society."
"In addition to public and cultural diplomacy, cinema needs regional and international markets to flourish economically," he added.
Among the also topics discussed during the meeting were ways to offer Iranian movies in Belorussian theaters and on their VOD platforms, collaboration on joint film projects and organizing mutual cultural weeks, and film technology exchanges.
Khazaei said that the Iranian film industry is increasingly developing and added, "About 100 feature films, over 2000 short, documentary and animated movies are produced in Iran every year."
He said that Iran is eager to offer the productions in theaters and on VOD platforms in Belarus.
Khazaei said that signing a memorandum of understanding may provide an opportunity for Iranian film students to study in Belarusian academic and educational centers.
He also said that Iran is ready to offer courses for Belarusian students at similar centers in Iran.
On his part, Koltsov also said that Belarus welcomes any suggestion from Iran to expand relations on films and added that he will provide the necessary preparations to sign a memorandum of understanding on cinematic ties with Iran.
He noted that Belarus has a lot in common with Iran, helping to develop cultural and film ties between the two countries, and said new collaboration on film and cultural issues can make the two nations closer to each other.
Koltsov said that there are many topics for Iran and Belarus to cooperate on, and added that Belarusfilm, a major film studio of Belarus, can play a key role in forming a joint venture with Iran to produce films for the international market.
Due to his recent talks with the Belarusian culture minister and Belarusfilm executives, Koltsov noted that his country welcomes mutual plans to screen films in Iran and Belarus.
Belarus plans to celebrate 30 years of diplomatic relations with Iran in March 2023 by organizing several cultural festivals, Koltsov said and added that a film week of Iranian and Belarusian films may be held on the sidelines.
Source:Tehran Times